Ninety percent of the skincare products I use are imported from South Korea. They're about 12 years ahead of the States in terms of technology," says Mary Schook, the beauty guru and New York-based owner of M.S. Apothecary.
If you're a beauty blogger seeking high and low for that HG product, at some point of your search, you might have come across some of Korea's cosmetic brands, lead by the one of the largest cosmetic companies, Amore Pacific and LG.
In this post, I would like to share with you my own thoughts and experience with the current and booming Korean beauty trend all over Asia, now spreading across Europe and the US as well.
For those who have been following me for a while now, you know that I have a soft spot for Korean beauty or anything Korean-related. Food, beauty, drama, culture and music. Heard of PSY? Yes, the one and only PSY, who's just become Billboard's Front Cover with words 500,000,000 fans waiting for him! This one horse-riding choreographed song, Gangnam Style, has now gone global and spreading more of that positive vibe. And who doesn't like positivity? Oppa, hwaiting*! (translate: *fighting!)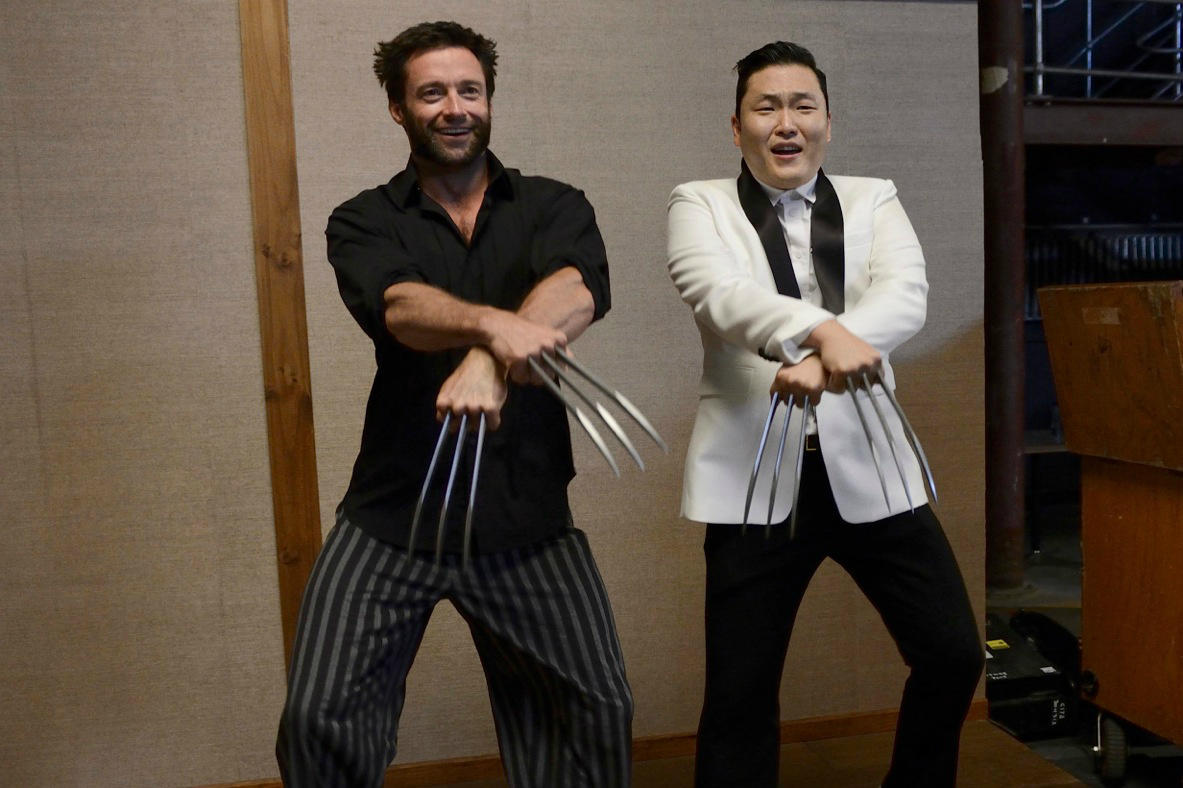 I love this duo! Slicing it Gangnam Style! 
So what Korean products' ingredients got us talking? Here are just some of mine:
SNAIL MUCIN (extract)
Or snail extract. Famous for it's ewwness for those who refuse to slime, when in fact, snail's mucin can work wonders on your skin, in terms of skin repair, skin regeneration and brighter appearance! My first slime, I called it my spot zapper! The second snail cream I'm using now, I'm dubbing it as the cream that makes my skin feels like a baby's bottom. So watch out for this new found product if you want a baby's bottom feel to your skin.
VENOM (synthetic! not the deadly snake venom!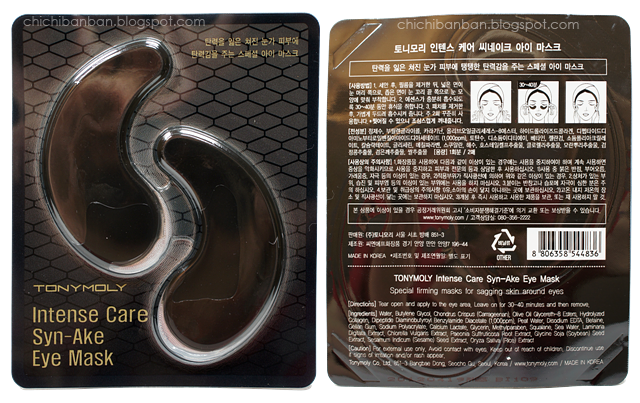 Click on image to check Airi's thought's on Tony Moly's Syn-Ake Eye Mask.
Snake venom (peptide's synthetic imitation of what is found in the venom of Temple Viper), for instance, gives you that power lift or that Botox effect without being needle-poked to maintain that 'forever young' appearance, while at the convenience of being in your own home. Great for diminishing those fine lines and say buh-bye wrinkles!
RED/WILD GINSENG- not only for drinking.
Ginseng, another ingredient used by our ancestors, very effective to improve our well-being (energizer, normalizer and stress reducer) and now use in many skincare brands – from mid to high end- in Korea. My first experience with skincare products containing red ginseng are from Donginbini, a premium brand I came across by reading hope-inablog, a site dedicated to Asian brands/products and reviews.
I can understand the ewww, ummm, hmmm expression you might all have. I don't blame you. I once was a skeptic, but now a total convert in terms of these ingredients included in my beauty products.
Please note that no snails are being squashed, squeezed or splattered to get the mucin out! The mucin is simply collected, if the snail is killed, it wouldn't be able to produce any mucin anymore! 
Are these part of your must-haves?
Have you been affected by the hallyu (wave) of the BB cream evolution? I have. It all began in Germany, where dermatologists  used this on patients after laser skin surgery, due to its soothing and healing properties. From then on, Korea's advanced technology has developed it further and has now become a beauty staple, a must-have for women, in fact, even for the flower-men. It offers not only coverage, but acts as a moisturiser, has skin whitening effect, anti-wrinkle benefits and even sun-block, BB creams are now dominating worldwide.
Make way for CC…
Beauty specialists, beauty diehards, beauty innovator, whatever you want to call them, in terms of perfecting a beauty must-have for all the ladies in the world, they never stop,  I reckon. Enter the third letter in the alphabet, go CC go!
Another innovative beauty product recently shared with us from that side of the world. Mizon, a Korean brand first introduced what they claimed to be Korea's 1st Smart Beauty Item earlier this year.
CC – color correcting, or Mizon's Correct Combo cream, is supposed to enhance your dull skin while providing all the skin benefits, such as whitening, wrinkle care, skin moisturizing, firming, pore care and sunblock. Your skin care and makeup in one. It's the type of cream that blends 'perfectly' with your skin tone and glides so effortlessly when applied. Sounds dreamy? See for yourself.
Before & After application of Mizon's Correct Combo Cream – with natural light.
Simply speaking, BBs and CCs are your all-in-one product with lightweight texture and feel but pretty decent coverage.  No wonder that the West, although a little bit behind, jumped on the wagon finally and launched our very own westernized version of BB creams. I must say, I'm not totally impressed on what our standard drugstore brands have produced, not even Mac, Bobbi Brown, Chanel can impress nor sway me to switch brands, (just being honest, as I'm not going to pay for just the brand name itself) in terms of the texture, shade, consistency but also the lack of skin benefits.
Koreans aren't about stripping the skin until it looks like something you want to ice skate on. They're into nurturing it," says Schook.
The rise of Vibrating BB machines!
And you thought you've heard it all!
I did LOL when I first read this, not because it was ridiculous, but I was in disbelief on how easy one can develop this type of awesome products over in Korea that could actually bring a new beauty era. But then again, I've not seen one of these from this side of the world. Could this mean that we've not caught up with the whole vibration yet?
Click on image to read Jon's detailed review on these vibrating BB machines. It's so good!
This vibrating BB machine applicators are the gran-daddy of all applicators (although you can get vibrating/rotating makeup brushes as well now apparently) that will put your traditional sponges and foundation brushes to shame. You want a photoshopped-like finish and not to fuzz around with your foundation brush all the time? Then look into one, this has been going on since earlier this year, so I'm sure you'll find one that will be your beauty best friend. No need to Photoshop your photos when posting online, I'd say. haha!
Spin and cleanse!
The new talk in town! Or rather, in Asia. This skin care gizmo has really caught my attention since its released. Elisha Coy's 3D Spin Cleanser exclusively sold at wishtrend.com, which means you cannot find this anywhere else yet, meaning this is the real stuff!
Could this be my first skin care gadget that will finally shrink my humungous pores, helps brighten my skin while making my dark spots disappear, and basically gives me that squeaky clean feeling without harming my sensitive epidermis? Yes please. It even comes with a blackhead brush, a miniature size brush to get rid of these annoying little suckers!
The video/s looks very convincing but somewhat too good to be true, don't you think? There's only one way to find out, I need to get my hands on this! So stay tuned my curious beauty mavens!
[youtube=http://www.youtube.com/watch?feature=player_embedded&v=dQNT75ioc_0]
Now that my admiration and thoughts on Korean beauty are out in the open (and my love for PSY hahah!), be assured that this personal beauty blog (but never too personal) will only share posts that I feel are worth sharing, products I've tried and tested, just like the few organic/all natural Western products I've introduced here so far.
What Korean beauty products are winning you so far? 
Related articles